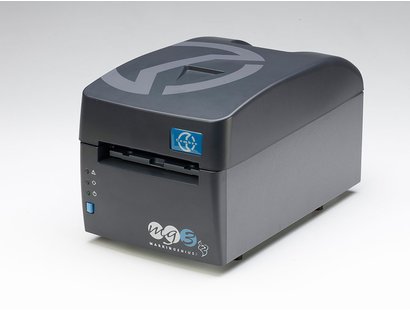 MG3

Thermal transfer printer MG3. Cembre

Thermal transfer printer MG3

Product Inquiry
DETAILED DESCRIPTION
Markingenius® MG3 has been exclusively designed by Cembre for the identification of conductors and electrical components.

Markingenius® MG3 is a high resolution printer based on thermal transfer technology, capable of producing tags for cables, pipes and tubes; terminal block markers and legends and labels for all electrical panels, components and equipment. All Cembre MG media can be printed with monocolour Windows True Type fonts at high speed.

Markingenius® MG3 will also reproduce Clipart images, drawings, barcodes and bitmaps down to very small sizes.
Compact, ergonomic, clean and quiet Markingenius® MG3 may be conveniently located in an office, like any other computer peripheral.

Each monochrome ribbon can print more than 300.000 MG-TPMF 4x10 mm cable tags with full printable surface coverage. Carriage loading and unloading operations are rapid; support templates are easily interchanged and as the pigment deposited from the ribbon dries instantaneously, printed sheets are immediately ready to use.
Speed
Prints 112 4x10 cable tags in less than 12 seconds.
Convenience
Software provides quick and easy upload of the data to be printed.
Economy
Prints around 300.000 4x10 cable tags with a single ribbon.
Quality
Printer resolution 300x600 dpi
Includes:
Printer MG3
MG2-PWC 991000 Support template for tags MG-TPM.
MG2-PLT 991002 Support template for serieFLAT media.
MG2-QTB 991011 Support template for terminal blocks.
Mains cable.
USB cable.
Protective cover MG2-COV 991680.
Ribbon take up core MG2-CRB 991654.
Black printer ribbon MG2-ETR 991600.
Installation, Operating & Maintenance and User documentation.
Software GENIUSPRO on CD.
Further information about these products and their accessories at pdf-link below.
Length

382 mm

Width

230 mm

Height

221 mm

Weight

7,4 kg
DOCUMENTS AND SPECIFICATIONS