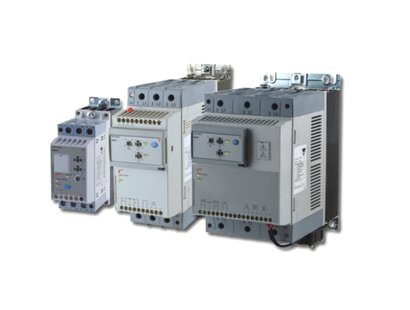 RSWT..

Soft starters for three-phase motors with control on 3 phases and settings optimization algorithm. Carlo Gavazzi Product Inquiry
DETAILED DESCRIPTION
RSWT…V..
A 3-phase controlled soft starter for centrifugal pumps and ventilators that controls all the tree phases to achieve current balancing on all the phases for minimized vibrations during motor starts and stops.
The dedicated self-learning algorithm that have the RSWT manages to achieve a very smooth starting and stopping performance with minimal settings resulting in a very easy to use solution.
The new RSWT series have cmpact housing in small dimensions (45mm up to 25 A and 75mm for the rest sizes) thus facilitating replacement of contactors and start-delta starters.
The RSWT includes an overload protection (class 10) and soft-starting and soft-stopping times can be set independently for a finer control. In this case there are 3 knobs to adjust: start time, stop time and full load current (FLC) setting for the overload protection. Also, there are many diagnostic functions including phase sequence, over and under voltage monitoring, locked rotor protection and also shorter SCR for improved protection in case of abnormal conditions.
Soft starter status indications are provided by means of three LEDs for supply, ramping and alarm indication. There are a 4th LED to select whether alarms follow an auto or manual recovery. In case of manual recovery of alarm, a push button is also available to reset the soft starter from alarm status.
Additionally, RSWT series is also equipped with two output relays for alarm (NC) and top of ramp (NO) indication. From RSWT..32 up to RSWT..90 are also equipped with a run relay.
Specification
Rated operational voltage: 220 - 400 V AC (+10% -15%) or 220 - 600 V AC (+10% -15%)
Rated operational current: 12, 16, 25, 32, 37, 45, 55, 70, 90 Α
Control voltage: 24 V AC/DC ή 110 - 400 V AC
Max number of soft starting: 20 / hour
Integral bypassing relay: yes
Optimized algorithm: yes
Relay output for: alarm, end of ramp (and RUN from 32 Α sizes and up)
Diagnostic functions: phases, voltage, overcurrent, locked rotor, temperature
DOCUMENTS AND SPECIFICATIONS