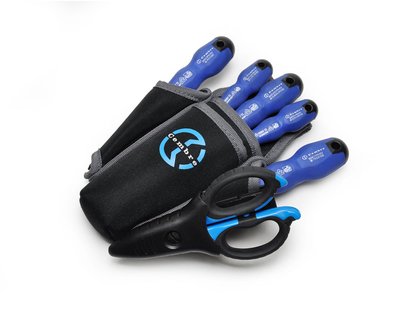 DETAILED DESCRIPTION
Professional screwdrivers:
The Cembre range of insulated screwdrivers have dual-compound handgrips and an ergonomic design making them is particularly practical and comfortable in the following modes of use:
To ensure quick identification, the type and size of the head are indicated in different colours on the back of the handle.
The heads are made from Chromium Molybdenum steel with a hardness of 55-59 HRC and are hardened with Phosphoric Manganese Acid to increase corrosion resistance; the size of the insulating cover allows it to be inserted into tight spaces.
Each individual screwdriver is tested in accordance with EN 60900.
Professional scissor:
Extremely lightweight and robust for safe, easy handling and comfort.
Easy cutting of conductors up to 50 mm² using the shaped grooves in each blade.
Safe and easy operation even when wearing work gloves.
Professional scissors with Special Steel frame for high resistance and long life.
Ergonomic and dual compound plastic handles: structure in Polyamide loaded with Glass fibre and inserts of soft Rubber.
The anti-loosening pivot and bevelled profile allow the accurate and consistent alignment of the blades.
High hardness blades (58 HRC) and an anti-slip serrated edge for making precise cuts even on more difficult materials.
Shaped groove for cutting conductor up to 50 mm².
Set 5 screwdrivers,1 scissor and pouch.
Professional screwdrivers flat head SDC (3) 1000V
SDC 3 X 100-KV
SDC 3,5 X 100-KV
SDC 4 X 100-KV
Professional screwdrivers cross head type Phillips SDC (2) 1000V
SDC 1PH-KV PH1
SDC 2PH-KV PH2
Professional scissor SC5X (1)
Further information about these products and their accessories at pdf-link below.
DOCUMENTS AND SPECIFICATIONS