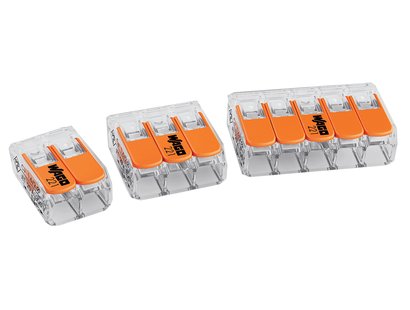 221, WAGO COMPACT Splicing Connectors, κονέκτορες, ταχυσύνδεσμοι

WAGO COMPACT Splicing Connector – 221 Series 4/6 mm²

Wago connectors 221 Series

Product Inquiry
DETAILED DESCRIPTION
WAGO COMPACT Splicing Connector – 221 Series 4/6 mm²
From intercom system wiring to electrical ovens: Connecting different conductor types is quick and easy with WAGO's compact 221 Series Splicing Connector.
Connect all conductor types without preparing them
Combine any conductor types and sizes
Easy-to-use operating lever for tool-free terminations
High current carrying capacity up to 32 A
Perfect for distribution applications thanks to mounting carrier
Quickly and easily connect all conductor types of different cross sections using two-, three-, and five-wire terminal blocks. The new connectors accommodate fine-stranded conductors from 0.14 to 4 mm², as well as solid and stranded conductors from 0.2 to 4 mm² (24–12 AWG). With the 6 mm² (10 AWG) variant, you can connect all conductor types – with cross sections from 0.5 to 6 mm² (2−10 AWG).
You can open WAGO's splicing connectors easily and quickly. Opening the levers on the 221 Series requires little effort. This means you can connect conductors quickly – and without any tools! While connecting the conductor, recessed handles on the sides ensure an easy, secure grip on the connector.
DOCUMENTS AND SPECIFICATIONS