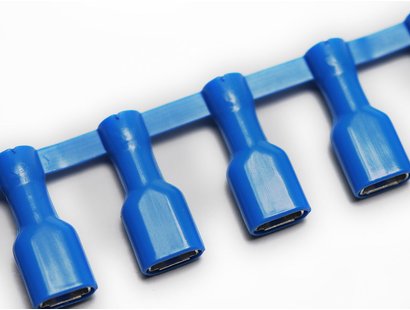 CRP-F...P CBP-F...P CGP-F...P

Halogen free fully insulated female terminals in roll. Cembre

Halogen free fully insulated female terminals in roll

Product Inquiry
DETAILED DESCRIPTION
The "CP" range of terminals in roll has been designed, to meet the increasing demands for improved safety and reliability of electrical connectors. The Polycarbonate insulation, is a halogen free, self extinguishing thermoplastic material class V0 (UL 94). The unique funnel shaped entry of the insulation sleeve, guarantees total insertion of the conductor strands into the terminal barrel, creating a secure and reliable, electrical and mechanical connection.
Suitable for quick installation in conjunction with the ELB-3 bench tool.
Further information about these products and their accessories at pdf-link below.
Cond. Size mm²

0,25-1,5 1,5-2,5 4-6
DOCUMENTS AND SPECIFICATIONS