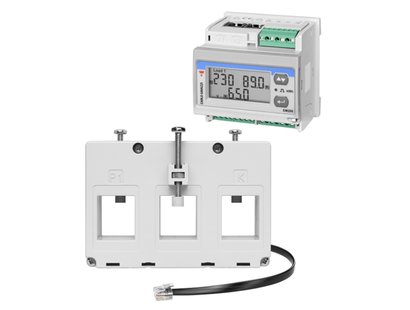 TCD..X..D

Triple solid core current transformer (160,250,630 Α) to be used with EM270-72D energy meter. Carlo Gavazzi

Triple current transformers with hole centers compatible with the circuit breaker bus-bars

Product Inquiry
DETAILED DESCRIPTION
TCD_XD
Triple solid core current transformer to be used in combination with EM270-72D energy meter. Equipped with an RJ11 wire for a really fast installation. The energy meter automatically reads from TCD its primary current rated value, saving time for the user set-up, and the relevant calibration parameters for a more accurate measurement.
With hole centres compatible with the circuit breaker bus-bars it can be mounted directly on the bars themselves, or wall/DIN-rail mounted using the relevant accessories.
Auto-detection of the primary current rated value by the EM270-72D energy meter with calibration parameters stored in internal EEPROM.
Primary current input: 160 A, ή 250 Α, ή 630 Α
Extended current rating: 120 %
Bus-bar size: 15,5x25 mm for TCD1X, 21x25 mm for TCD2X, 31x31 mm for TCD3X
Hole centers: 25 mm for TCD1X, 35 mm for TCD2X, 45 mm for TCD3X
Output cable length: 80 cm ή 150 cm ή 200 cm
Output cable connections: RJ11
Operating temperature: -25° to +55°C
Mounting: DIN-rail, bus-bar and panel mounting
Standard accessories: 3 panel mounting fixing clips, 1 DIN rail adapter, 3 bus-bar fixing screws

DOCUMENTS AND SPECIFICATIONS