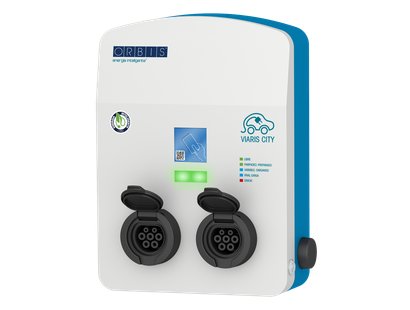 OB94T1116, OB94T2232, OB94T4363

VIARIS CITY 3x230/400 V

Charging system suitable for any electrical vehicle. Allows communication for web management of charging points. Basic models from 11 kW to 43 kW of power, depending on power needs.

Product Inquiry
DETAILED DESCRIPTION
Power supply: 3x230/400 V ac
Nominal frecuency: 50 Hz
Luminous indicator: Yes, charging state
Wi-Fi: Yes(802.11 b/g/n)
RS485 communication: Yes
Time programming control : Yes
ON/OFF touch sensor : No
Material: AP 02, 1.5 mm thick and zinc-plated in white. Textured painted in RAL 5015 (socket) and RAL 7035 (lid) colours
Degree of protection: IP54 according to EN 60529
Degree of mechanical protection: IK10 according to EN 62262
Method of mounting control: Wall mounted or floor standing
Operating temperature: -30 ºC to 50 ºC
Information about the charging status.
Geolocation of recharge points.
Communication with the manager: RS485, Ethernet, 3G/GPRS, etc.
Compatibility with systems integrators and OCPP systems.
Communication with the user: app or others.
Information collection for statistical purposes.
Preventive maintenance of fleets.
Light indicators: occupied or reserved station, vehicle connected, charging, recharge status, charging complete and error.
Casing lock with key.
There are different options that can be incorporated to the basic models, such as charge consumption measurement, Ethernet or 3G/GPRS communication.
Area of application:
Electric vehicle charging modes 1, 2, and 3 as Type 2 connection base according to EN 62196-2 up to 43 kW.

Models:
Model:

Reference

OB94T1116

Power supply

Three-phase

Current

3 x 16 A

Power

11 kW

Charging mode

Mode 3 according to EN 61851-1

Outlet

Socket outlet Type 2 according to EN 62196-2

Model:

Reference

OB94T2232

Power supply

Three-phase

Current

3 x 32 A

Power

22 kW

Charging mode

Mode 3 according to EN 61851-1

Outlet

Socket outlet Type 2 according to EN 62196-2

Model:

Reference

OB94T4363

Power supply

Three-phase

Current

3 x 63 A

Power

43 kW

Charging mode

Mode 3 according to EN 61851-1

Outlet

Socket outlet Type 2 according to EN 62196-2
DOCUMENTS AND SPECIFICATIONS