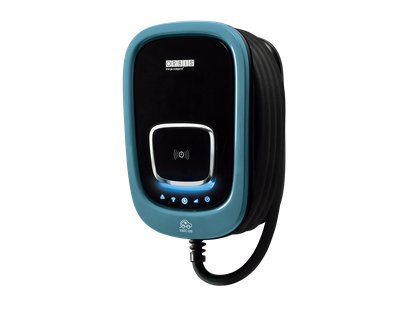 OB94U720HA1, OB94U7A0HA1

VIARIS UNI 3 x 230/400 V

Three phase smart charger suitable for any type of electrical vehicles. Attractive design, easy operation and trouble free installation both in residential garages and in the tertiary sector. A charge modulator to optimise the highest charge within the shortest possible period without exceeding the supply capacity.

Product Inquiry
DETAILED DESCRIPTION
Power supply: 3 x 230/400 V ac
Nominal frecuency: 50 Hz
Luminous indicator: Yes, station and vehicle charging state indicator
Load supervision and control: Yes
Wi-Fi: Yes (802.11 b/g/n)
ON/OFF touch sensor: Yes
User identification (RFID): Yes
Casing material: PC high strength
Degree of protection: IP54 according to EN 60529
Degree of mechanical protection: IK10 according to EN 62262
Mounted: Wall surface
Operating temperature: -30 ºC to 50 ºC
Three phase smart charger suitable for cars, motorcycles and electrical bicycles or plug-in hybrid vehicles.
Attractive design, easy operation and trouble free installation both in residential garages and in the tertiary sector.
A charge modulator monitors the home's energy consumption and adjusts power demand to optimise the highest charge within the shortest possible period without exceeding the supply capacity.
Maximum current limitation available via a selector switch.
Models with 5 meters tethered lead (connecting cord). Charge Mode 3 (high communication level) with Type 2 connector according to EN 62196.
Residual direct current detector to protect people.
Wi-Fi communications.
We can view the status, download charging station and home consumption history logs and act on the charging station conveniently via APP VIARIS with a smartphone.
Remote firmware updates.
Mobile phone notifications.
Standard MQTT network protocol.
OCPP 1.6 communication protocol.
Control of hourly programming for the use of electricity rates.
LED lamps provide VIARIS UNI state and vehicle charge progress indication.
Tactile sensor or RFID
PC enclosure with IK10 high strenght and high heat distortion temperature.
IP54 degree of protection.

The selected basic model may be upgraded with the following accessories:
Additional Schuko socket outlet.
MID certified energy meter, approved for expenditure management.
ETHERNET communications and 3G.
RFID card (5 units).
Area of application:
Electric vehicle charging both in residential installation (single family home or community garages) and in tertiary installation (office garages, shopping centres, hospitals, corporate car parks, etc. )
Basic models (other references to consult in Rate):

Model:

Reference

OB94U720HA1

Power supply

Three-phase

Current

3x32 A

Power

22 kW

Charging mode

Mode 3 according to EN 61851-1

Outlet

Flexible cable 5 m Type 2 according to EN 62196-2

Model:

Reference

OB94U7A0HA1

Power supply

Three-phase

Current

3x32 A

Power

22 kW

Charging mode

Mode 3 according to EN 61851-1

Outlet

Flexible cable 10 m Type 2 according to EN 62196-2
DOCUMENTS AND SPECIFICATIONS